Mi Viejo San Juan Restaurant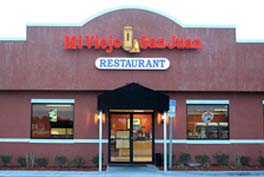 The Restaurant offers traditional Puerto Rican cuisine. Including local appetizers such as, sorullos (sweet, plump corn fritters), Papa Rellena (mashed potatoe balls stuffed with ground beef), Alcapurrias, Empanadillas de Carne o de Pollo (meat or chicken turnovers), and our famous Mofongo, prepare at the moment you order.
Our main dishes include delicious Steak, Chicken, Pork, and Seafood dishes.Lighter dishes include Soup and Sandwiches. We offer several side diches to acompany your meal, like Tostones (fried green plantains), Amarillos (sweet plantains), White Rice, Arroz con gandules (Yellow rice with pigeon peas), Red beans, Black beans, French fries and Salad. The menu also includes freshly brewed coffee and traditional Puerto Rican desserts. The experience would not be complete without one of our thirst quenching Piña Colada. Mi Viejo San Juan Restaurant offers also Wine and Beer. Make sure to ask for the house specialty "Sangria".